Zopiclone metabolises to two distinct metabolites: N-oxide-zopiclone, and N-desmethyl-zopiclone [8]. Once ingested, zopiclone becomes approximately 80% bioavailable [9], with between 40-80% of zopiclone being bound to plasma proteins [8; 10; 2]. Furthermore, the N-oxide-zopiclone metabolite has been found to exhibit pharmacological activity in the body; with the N-desmethyl-zopiclone metabolite showing no pronounced activity [8]. The elimination half-life of zopiclone, along with its active metabolite, has been noted as being between 3.5-6.5 hours [7]. Other zopiclone reviews have indicated half-life of 5.1 hours [1]. Zopiclone, along with zolpidem and zaleplon, is a prescription-only medicine (POM).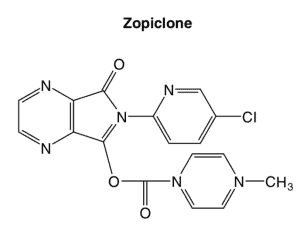 Dosage
Recommended zopiclone dose for patients suffering from acute or chronic insomnia is 7.5mg once daily, before bed [2]. Zopiclone should be avoided in woman who are pregnant and who breastfeed, since zopiclone can cross into the placenta and breastmilk, respectively [2]. There are currently two doses available: 3.75mg and 7.5mg [11]. For the short-term treatment of insomnia, research has suggested a 7.5mg dose, per night [Hesse et al., 2003. One placebo-controlled cross-over study, involving 30 individual – 15 make, 15 female – sought to compare the residual effects of a 7.5mg zopiclone dose – in conjunction with alcohol – to a placebo [12]. The study was initially conducted to assess motor function (driving test) and psychomotor performance across all individuals. Results showed that a 7.5mg zopiclone dose caused a marked impairment of driving, attention and memory after zopiclone treatment [12]. Authors of study note that driving should be avoided the morning after (7.5mg) zopiclone dose [12]. Interestingly, other reports have also indicated that zopiclone should not be taken with alcohol, other CNS and illicit drugs which can increase road traffic incidents from impairments [7].
In terms of residual effects of zopiclone, when compared to that of zaleplon, a 7.5mg dose of zopiclone has longer lasting residual effects when contrasted to zaleplon at a 5 and 10mg dose [3]. Another study evaluating blood zopiclone concentrations administered 5 or 10mg zopiclone capsules to 16 healthy young males [13]. Authors were interested in understanding the relationship between blood zopiclone concentrations and psychomotor and cognitive impairments [13].
Safety
The safety profile of zopiclone is addressed via the assessment of its rebound insomnia potential, withdrawal and dependence on zopiclone and residual effects and tolerability [1]. Insomnia in North America and the UK is between 5-15% with around 40% also experiencing daytime sleepiness [9]. Z-drugs, including zopiclone, have the potential to cause spontaneous reactions, such as acute excitement, vivid dreams, along with an increase in hostile, anxious and aggressive behaviour [7]. Zopiclone has previously been studied and monitored by the Prescription-Event Monitoring (PEM) in 13,177 patients [18]. 85% of the 13,177 patients were prescribed a zopiclone tablet (pill) of 7.5mg. Comparisons were made with flunitrazepam – in a previously similar study – and results reported 7 cases of possible zopiclone dependence, however overall researchers of the study noted no confirmed dependence to zopiclone [18]. Unfortunately, one patient in the study cohort ingested 28 zopiclone pills along with 100 co-proxamol, and died from this accumulative dose [18]. 37 patients overdosed with other drugs – namely psychotropic drugs – with 3 deaths recorded [18].
Side Effects
Rebound insomnia is evident after the termination of hypnotic treatment with benzodiazepines [14]. In the case of misuse or increased intake of zopiclone, one commentary article [15] presented several cases where zopiclone doses were increased. Other cases documented zopiclone dosage have reported no adverse reactions. Table 1 describes each case.
Table 1. Data summarised and adapted from Jones et al., 1998.
Case

Description

Outcome

Reference

29-year old man

Prescribed 7.5mg zopiclone

Increased dose to 22.5mg with other tablets mixed.

Stopped taking zopiclone after 8 months.

Severe anxiety with tachycardia, tremors, sweating and rebound insomnia.

Treated: 25mg (3x daily) with amitriptyline.

Full recovery

[15]

26-year old man

Prescribed 7.5mg zopiclone

Increased dose to 4x daily

Experienced tremors, sweats flushes, palpitations.

–

49-year old woman

Received 7.5mg zopiclone for insomnia.

Increased dose to 15mg and then 22.5mg

Attempted to stop dose, twice.

Severe rebound insomnia and anxiety

–

36-year old woman

Bipolar affective disorder.

Prescribed 7.5mg zopiclone nightly to treat insomnia.

After 1 year: taking 7.5mg 4x daily.

Reduction in dose led to sweating, palpitations, tremors and anxiety

Dose gradually reduced.

–

20-year old man

Diagnosed with MDD.

Patient started on escitalopram (20mg) daily dose

Further prescribed 7.5mg zopiclone at bedtime.

Dose increased to 15mg (high dose): symptoms of intractable insomnia, decreased total sleep time

Zopiclone reduced to 7.5mg: moderate improvements in sleep

Discontinuation of zopiclone: improvement of sleep

[5]

42-year old woman

Tetrabenazine first administered

Followed by clonazepam, and subsequently amantadine.

Botulinum was also introduced to address involuntary movements,

Zopiclone was introduced to aid in sleeping difficulties. Dose began at 7.5mg once daily, and was increased to 15mg once daily

No adverse outcomes

[4]

67-year old man

DSM IV primary insomnia, depressive disorder and abuse of zopiclone.

Initially began treatment using flunitrazepam. Moved onto zolpidem – for half a year using 20mg daily – and zopiclone – 7.5mg daily.

Patient increased zopiclone dose to 337.5mg daily. Patient's zopiclone dose was reduced to 15mg daily.

No side effects experienced.

No severe problems associated with zopiclone withdrawal

Severe problems with reducing zopiclone dose.

[16]
In general, Z-drugs, such as zopiclone can produce adverse effects such as headaches, stomach upset and dizziness; however, are usually well-tolerated [9]. Physical side effects of zopiclone include a peculiar metallic taste in the mouth along with reduced coordination [11] in simple tasks. According to the WHO, zopiclone has yet to be examined for any euphoric effects in users [17].
References
[1] Göran Hajak, 1999. A Comparative Assessment of the Risks and Benefits of Zopiclone A Review of 15 Years' Clinical Experience. Drug Safety 1999 Dec; 21 (6): 457-469 0114-5916/99/0012-0457/$06.50/0 .
[2] Stuart Noble, Heather D. Langtry and Harriet M. Lamb, 1998. Zopiclone: An Update of its Pharmacology, Clinical Efficacy and Tolerability in the Treatment of Insomnia. Drugs 1998 Feb; 55 (2): 277-302 0012-6667/98/0002-0277/$26.00/0 .
[3] David R. Drover, 2004. Comparative Pharmacokinetics and Pharmacodynamics of Short-Acting Hypnosedatives Zaleplon, Zolpidem and Zopiclone, Clinical Pharmacokinetic 2004; 43 (4): 227-238.
[4] Petya Bogdanova-Mihaylova, MD, Richard A. Walsh, MD, MRCPI, 2017. Poststroke Choreodystonia Responsive to Zopiclone: Further Evidence of a Role for the "Z-Drugs" in Hyperkinetic Movement Disorders. International Parkinson and Movement Disorder Society. doi:10.1002/mdc3.12471.
[5] Adam Abba-Aji, Prajjita Bardoloi, 2017. Paradoxical insomnia in a patient taking zopiclone. BMJ Case Rep 2017. doi:10.1136/bcr-2016-217335.
[6] Erwin Sigel1,and Margot Ernst, 2018. The Benzodiazepine Binding Sites of GABAA Receptors. Trends in Pharmacological Sciences, July 2018, Vol. 39, No. 7 https://doi.org/10.1016/j.tips.2018.03.006.
[7] Aasha Agravat, 2018. 'Z'-hypnotics versus benzodiazepines for the treatment of insomnia. Progress in Neurology and Psychiatry I Vol. 22 Iss. 2 2018.
[8] Leah M. Hesse, Lisa L. von Moltke and David J. Greenblatt, 2003. Clinically Important Drug Interactions with Zopiclone, Zolpidem and Zaleplon. CNS Drugs 2003; 17 (7): 513-532 .
[9] Naren Gunja, 2013. The Clinical and Forensic Toxicology of Z-drugs. J. Med. Toxicol. (2013) 9:155–162 DOI 10.1007/s13181-013-0292-0.
[10] Christine Fernandez, Patrice Alet, Catherine Davrinche, Joelle Adrien, Alain Thuillier, Robert Farinotti and Franc: ois Gimenez, 2001. Stereoselective distribution and stereoconversion of zopiclone enantiomers in plasma and brain tissues in rats. Journal of Pharmacy and Pharmacology, JPP 2002, 54: 335–340.
[11] Dr. Russell Newcombe, 2009. Assessment of the consumption and consequences of zopiclone (Zimovane) among drug-takers in a North-East town. Lifeline publication.
[12] Annemiek Vermeeren MSc, Wim J Riedel PhD, Martin PJ van Boxtel PhD, Mona Darwish PhD, Isabelle Paty, PhD, and Alain Patat PhD, 2002. Differential Residual Effects of Zaleplon and Zopiclone on Actual Driving: a Comparison with a Low Dose of Alcohol. SLEEP, Vol. 25, No. 2, 2002.
[13] Knut Hjelmeland, Ingebjørg Gustavsen, Elisabeth Leere Øiestad, Åse Marit Leere Øiestad, Gudrun Høiseth, Jørg Mørland, 2017. Zopiclone concentrations in oral fluid and blood after, administration of therapeutic doses of zopiclone. Forensic Science International 278 (2017) 177–183.
[14] Richard C. Oude Voshaar, Anton J.L.M. van Balkom, Frans G. Zitman, 2004. Zolpidem is not superior to temazepam with respect to rebound insomnia: a controlled study. European Neuropsychopharmacology 14 (2004) 301–306.
[15] Ian R Jones, Gary Sullivan, 1998. Physical dependence on zopiclone: case reports. BMJ 1998;316:117.
[16] Marcus F. Kuntze, Alex H. Bullinger, Franz Mueller-Spahn, 2002. Excessive use of zopiclone:
a case report. SWISS MED WKLY 2002;132:523.
[17] E. Lunesta, 34th ECDD, 2006. Assessment of zopiclone. WHO.
[18] William Inman, Kiyoshi Kubota MD, Gillian Pearce BSc, and Lynda Welton PhD, 1993. PEM report number 10. Zopiclone. https://doi.org/10.1002/pds.2630020413.